*Major spoilers ahead
Something in your eye
Wow, ok I was not expecting to expect the unexpected this week, but it's exactly what we should have expected. This week's episode was definitely an odd one, the whole episode was masquerading as a filler at first, only then to reveal a twist, that completely changes from the source material and what I should expect in future episodes. Earth shifting twists aside let check out this week's episodes highs and lows as we recap the dead.
1. "It will give you choices next time"

So right at the start, we learn a few new bits of  information; Carol is with Tobin and still very clearly troubled by her past actions and Rosita is now stopping it with Spenser (Giggity), since Abraham brutally dumped her. Honestly, not much has really happened of note in the opening, bar one thing that caught my eye (and the eye of anyone who has read the comics), Morgan's prison. So quite a few people caught on that Morgan was constructing a prison in prior episodes; Rick approaches Morgan (while visibly sick of his shit) and asks "why", Morgan responds with "It will give you choices next time". I don't wanna potentially give any story stuff away, but this prison may very end up being quite important in the future and might even pay off in a big way, so let's keep an eye on it.
 2. How not to survive the apocalypse: by Denise and Eugene
Surprise motherfucker! You thought that we were finished with the whole Denise needs a can of Soda arch, but Denise's 'quest for pointless shit' reaches its pinnacle in this week's episode. That's right guys, this is actually a Denise (and Eugene) episode, strange as that may be. So essentially Denise goes on a run for medical supplies, pretty much forcing Daryl and Rosita to escort her in the process. Now if you're thinking out loud to yourself something along the lines of "hey isn't she like super important, wouldn't having the town's only doctor go on a really dangerous run be really super fucking du-", then congratulations! You might just have the basic thinking and reasoning skills required to survive the zombie apocalypse.
So the excuse they use is that Denise is the only one who can "I.D. the meds" (because apparently the last piece of pen and paper in existence, died peacefully in its sleep earlier that morning), It's a dumb excuse but hey-ho it moves the plot forwards.
So the trio hit up the Pharmacy, Daryl and Rosita fetch the supplies while Denise hangs back. Hearing a noise, Denise  decides to investigate it herself, alone and armed with a machete. The whole thing is a big false alarm , but it did highlight one of the several poor decisions made by characters (and I actually mean just mostly Denise) in this episode and oh boy were there poor decisions. But let's not get ahead of ourselves here.
3. "Your services are no longer needed"
Meanwhile, somewhere else, Abraham is escorting Eugene as the latter guides them to an old factory (again, no one thought this would be a bad idea). Eugene spouts some shit about reaching level two in life and manages to use the words RPG, Table Top, Electronic in the same breath. Interestingly Eugene had come to the factory with the idea of manufacturing bullets for Alexandria (again possibly another hint of things far to come, keep another eye out, folks). Shit escalates pretty quickly and my poor-decision-o-meter starts ringing off the charts again; this time, Eugene tries to prove he himself by taking on a Walker with a head encased mostly in dried molten metal (that's some level 2 video game boss shit right there Eugene).
The whole situation goes pear shaped, Abraham intervenes and saves the day (stealing all the EXP in the process). Eugene in response, begrudgingly sends Abraham away, telling him that "his services are no longer needed". Naturally, Abraham angrily complies and leaves Eugene to himself, in what certainly makes for another really poorly thought out decision.
I did actually like this scene though as a whole, the environment was fun and allowed for an interesting Walker fight; I mean, a Walker with dried molten metal protecting his noggin? Let's ignore how the Walker is even able to move with all that extra metal, or how painful a death that must have been when he was human; Molten Walker was pretty bad ass.
4. What was up with Denise?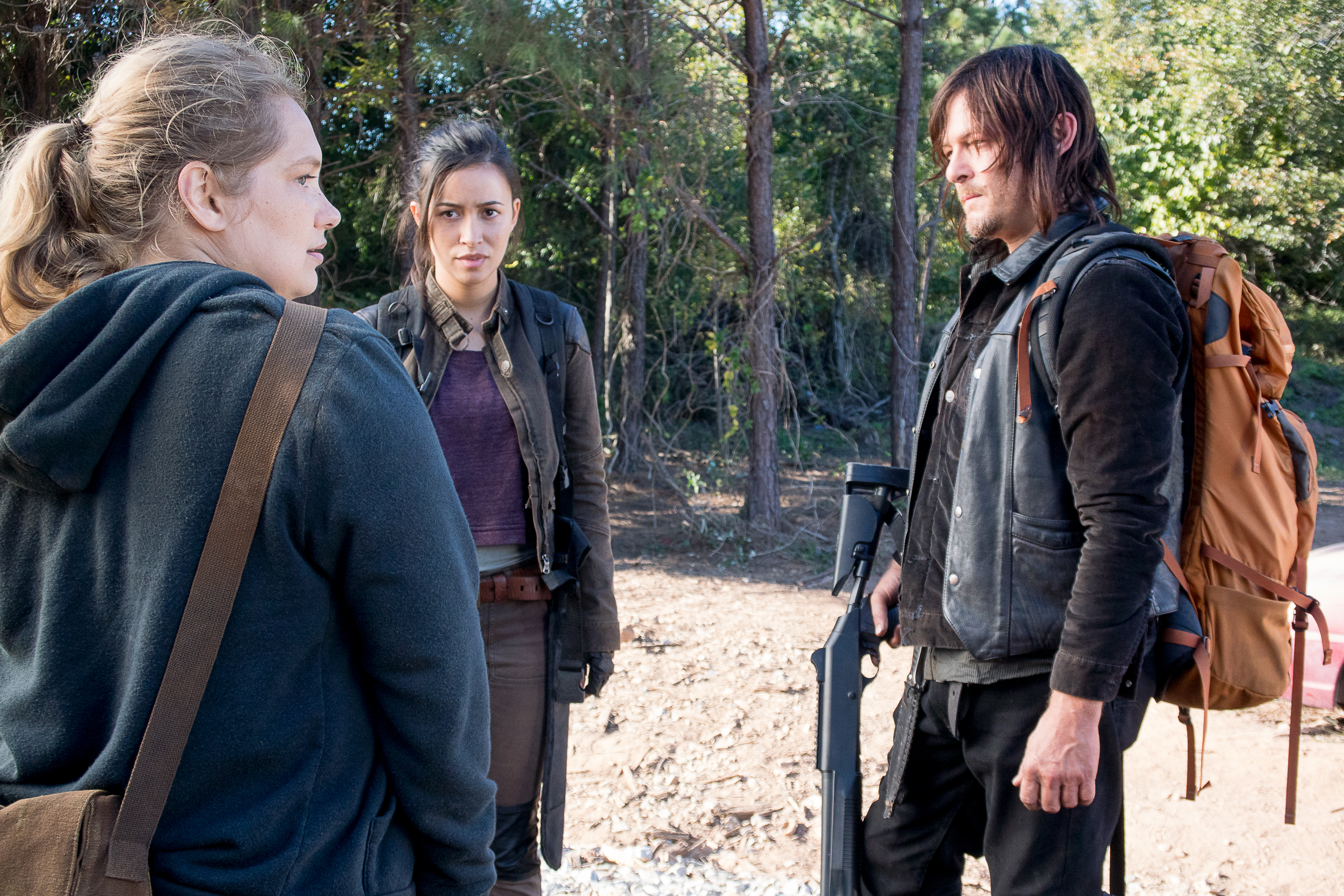 Someone had to die this episode and it wasn't who I expected it to be, the show through another curve ball as it deviates even further from the original comics and this change is bound to have big and interesting ramifications for how the future plays out. But I'm getting slightly ahead of myself again, as there is something that needs addressing and that's Denise. I'm not really sure how we were supposed to react the character of Denise; I mean this is a character who was made this week, to actively throw herself constantly in harm's way, despite being a vital part Alexandria's survival. So I was baffled when Denise decided to throw a Walker on top of herself for…for a can, a fucking soda can.
The justification for her actions didn't exactly pay off in my books; either she was trying to set Rosita and Daryl up on a date or counsel them. Two things this character has shown no prior proficiency at. This whole episode was designed around characters acting out of character, all to drive Denise to a certain plot point so this could happen…
5. The Twist
Out of nowhere Denise takes a bolt straight to the back of the head mid-sentence. This definitely came as a shock to me, not because of what happened, but because of who it happened to (and also when specifically it was going to happen). You see Originally it's Abraham who takes the bolt and dies suddenly; it's a big character death in the comics, right after Jessie bites the bullet.
I find Denise to be a strange choice instead of Abraham, particularly because I for one cared little for Denise as a character. At the same time, I'm happy that Abraham will be around at least for a little while longer. Abraham simply being alive will likely greatly alter the course of future events. Now onto the shooter.
6. The return of Dwight (and his new face!)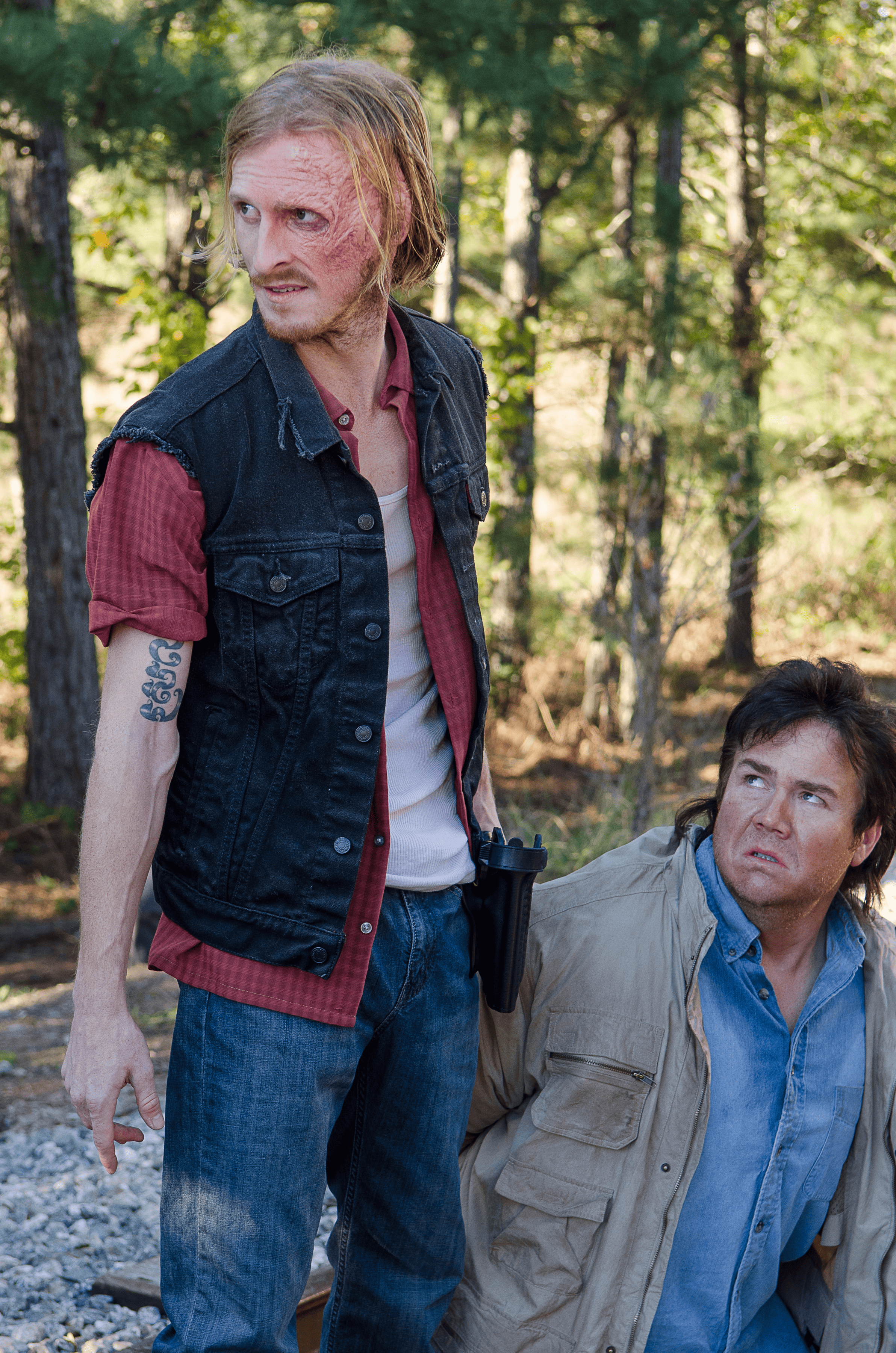 So the Shooter was none other than Dwight! Wielding Daryl crossbow and holding Eugene hostage. He and a small group Saviors surround Daryl and Rosita. Fortunately, Abraham is hiding nearby and Eugene makes a distraction (of the level two variety), by taking one for the team and biting Dwight's groin (a scene that might surprise you if I told you it was also from the comics).
This ends in a cool slow motion shoot out; Eugene is mortally injured and there are some close calls. Ultimately Dwight and his Saviors cut their losses and flee (with Dwight literally less of a man than when he started). But most importantly, Daryl gets his crossbow back! So really we just traded Denise for a crossbow and you know what…not bad, seems pretty fair to me.
7. Runaway Carol

So as the survivors head back to Alexandria and the show sets up the next episode in it's last few scenes. We focus once more on Carol, who in keeping with the theme of 'poor decision making', decides to leave Alexandria because of reasons.So yeah, this episode was ultimately a flop, it did it's best to set up some potential future plot lines but in the end, it felt more like the show was plucking random parts of the comics to use before it was too late.
The characters acting…well out of character, also only helped to show how forced this week's plot was. Things did improve in the third act after Dwight's appearance (not so coincidentally right after Denise dies too), as the chaotic firefight was well choreographed and the slow motion was well utilised; helping to build tension rather than coming across as a cheap gimmick. With two episodes left off of season 6, I can only hope that The Walking Dead does not run out of steam before the season finale.